Making Connections: Inside the Historic Jarvisburg Colored School with Jill Landen, Curator for Currituck County
By Amy Beth Wright
Jill Landen first began working with Currituck County as the curator for Whalehead Club, a 1920s-era Art Nouveau mansion (now museum) built by railroad scion Edward Collings Knight and his wife, Marie Louise Le Bel Knight, along the Currituck Sound. Having had the opportunity to work on numerous historic projects, Landen is now piecing together important historical connections between North Carolina schools for African American children that were built after the Civil War. Decades before Julius Rosenwald, president of Sears Roebuck, and Booker T. Washington,  founder of what is now Tuskegee University, developed schools across the South, local schools reflected, as Landen says, the importance of education to recently freed slaves.
Currituck County operates the museum at the Historic Jarvisburg Colored School [HJCS], which Landen estimates is the oldest post-Civil War school in North Carolina. A deeply engaged board, which is responsible for the site's initial preservation and restoration, runs the nonprofit entity. The school originated in 1868 and closed in 1950; in 1911, it was moved different plot of land and second floor was added to accommodate more students.
In this interview, Landen delves into how HJCS seems to have an important connection to the Freedmen's Colony on Roanoke Island, the connection between education, hope, and opportunity, and the history of a building that is "so loved you can feel it when you walk in."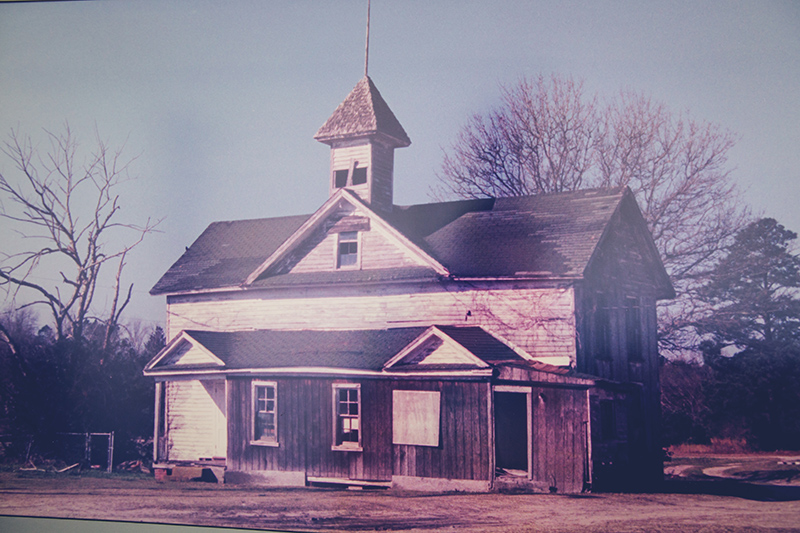 How did a board of directors first form with a mission to preserve the Historic Jarvisburg School?
The board was established by 2003, but it really started years earlier. A lot of people were involved—people in the community who were part of the church right next to the school, descendants of people who'd attended the school, and some who'd attended the school as young children. They realized how important restoration was for the county history and the African Americans of this area, and raised money and reached out to the county government and different local businesses. We have good reason to believe—we cannot absolutely prove it yet—that it's the oldest African American school in North Carolina where the building is still in existence. By 1950, the county consolidated all the schools. Shortly after that, everything wasn't segregated anymore. The church took it over and the Masonic Lodge had different uses for the space, and then it fell into disrepair before they started to restore it.
How did this particular school originate? Is its story known?
The school's beginnings were due to a dedicated man named William Hunt, a local African American farmer. We don't know if he was a freed man, but by 1868, when he donated some of his land for the school, he was free. He took the initiative to open educational opportunities for the black children in the county. Education was such a huge concern at that point. Many slaves were not allowed to have an education, to learn to read or write, and that seemed to be hope or promise for the future.
Did the school have support from the local community?
It had a lot of support. It was the first African American school in the county, and a very successful school. This is where we're getting into an interesting connection we are currently trying to prove, to the Freedmen's Colony on Roanoke Island.
What is the connection?
By 1863, the union had taken over most of where we are in North Carolina. Roanoke Island was strategic because they could block supplies coming for the South through the rivers. Refugees who started following the union set up a refugee settlement on Roanoke Island called the Freedmen's Colony. It right where the Lost Colony was, which is ironic. Education became so important right after the war and was one of the main things newly freed slaves wanted. They'd been denied it, and suddenly were able to have it, starting in the Freedmen's Colony on Roanoke Island. We also know the freedmen were dispersed after the war was over, and some were taken to Currituck County. In fact, we had Etheridges that went to the Historic Jarvisburg school. There's a grave at the church behind the school, so we know that. We're trying to put everything together in our research.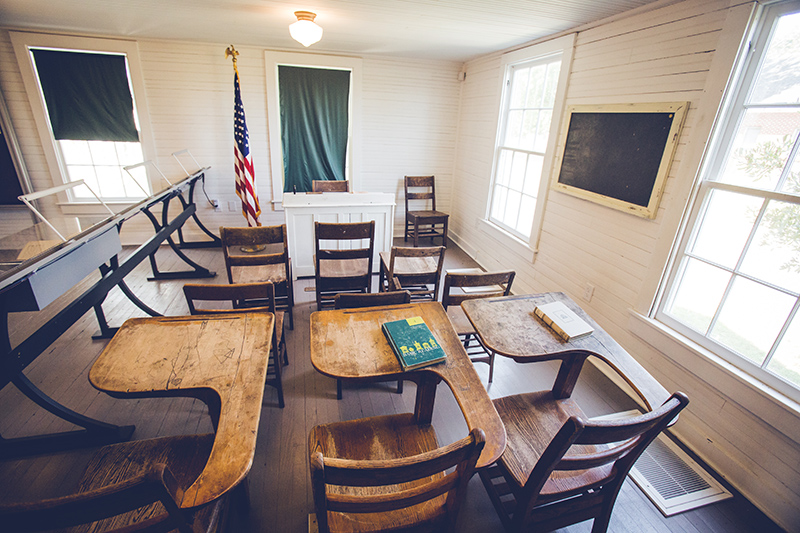 How are you approaching the research process?
We are talking to people down at Fort Raleigh about this. We know there was an education component at the Freedmen's Colony early on, and then by 1868, a school in Currituck. So that says a lot. We know that Jarvisburg was one of the first schools, and it was pre-Rosenwald. Those opened in the 1920s. There were many other schools in other parts of the county, and this is by far the oldest. That's why we think there's such a connection to the Freedmen's Colony.
In terms of original artifacts, what has proven viable for exhibition?
We've got a number of chairs, desks, blackboards, and books from the 1930s and beyond. One of the really cool things is we have many oral histories on video of former students and teachers. As you walk through you hear people talk about their experience, how they walked to school and there were no busses until later, whereas the white students had busses.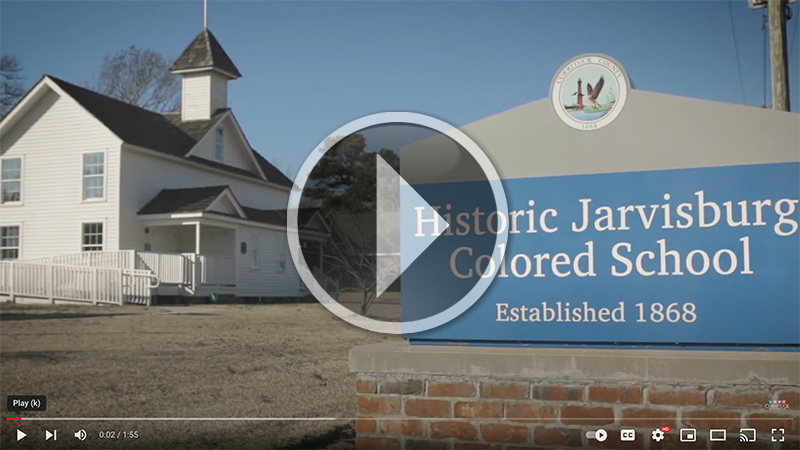 What do you think some of the striking feelings, images, or moments are as you walk through?
You realize the value of education and how important it was to people who were not allowed to have it. The school was built when people didn't have much money, that's how important it was. Kids today hear about segregation, how students had to walk a long way to school in some cases. And there's some happy stories. A project that began right before the pandemic is supported with funds from The North Carolina Humanities Council called Songlines.*
* Artist Lisa Bateman developed this project in 2019 and it was later extended with additional funding. According to the HJCS, Bateman "observed that many alumni histories included play and work songs, new songs learned in school, songs with games during recess, songs sung while missing school to pick cotton and plant potatoes, and songs sung on the long walks to and from school each day. The decision was made to utilize sound as the art component in the project."
What was Currituck County like during that time?
It was very rural. Currituck County is on the border of Virginia and is on the Outer Banks, and part of it has the barrier island, like the ocean. And there's the sound and the mainland. Most people lived on the mainland at that point, in lower Currituck County, closer to where you would cross over to get to the beach. That's different then living up near Virginia. It's a very long county, and very rural, with lots of farmers and sharecroppers. People lived off the land, and knew how to fish and use the water for subsistence. And when they had to bring in the crops, collards, sweet potatoes, of course seafood, and ducks were huge for waterfowl, school had to stop because the kids had to go work. That's emphasized at the museum. For the white children, school didn't stop. Some of that changed as the years went on; we're talking about a long period of time here, almost 100 years.
What is Currituck like now, compared to then?
You still see a lot of farms and markets as you drive down. Most people are driving to the beach, and of course once you get to the beach, it's developed now. Most people don't know the difference between the Dare County Outer Banks and the Currituck Outer Banks because it's just "Outer Banks." There was no road to the Currituck Outer Banks, no road after the county line in Currituck, which is where a lot of the HJCS kids would have been coming over fishing. There were wild horses, people were grazing their cattle and things like that. And then in 1984, the road opened up and it's just, wow, big houses everywhere. But the mainland's not quite there yet.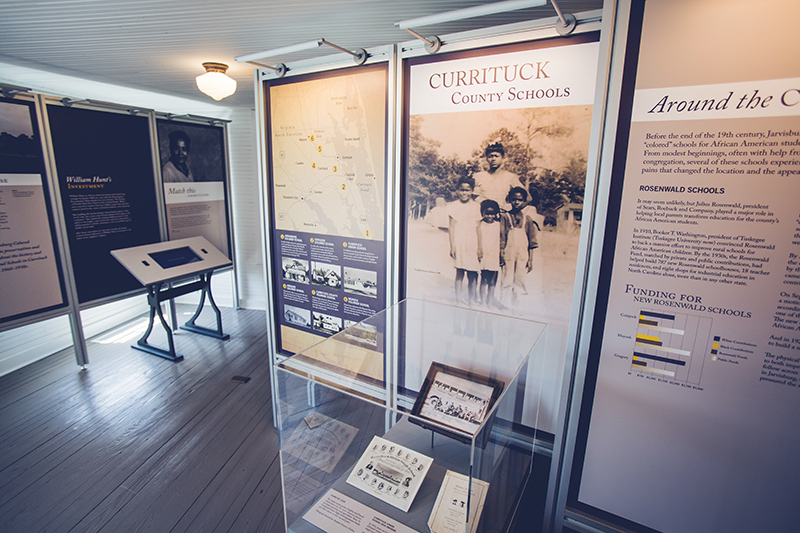 What do you find most extraordinary about the site?
The fact that it still exists, and it is one of the oldest ones—probably the oldest—in the whole state of North Carolina, and it lasted. There were all sorts of opportunities for the newly freed slaves, but they dried up really fast. Voting rights were taken away. The school lasted throughout all of that. They knew how to survive. Even though it fell into disrepair, it didn't burn down. I'm really fascinated by this building and its connection to all of this history. It's just so loved by people. You can feel it when you walk in there.